• Conversions • PDF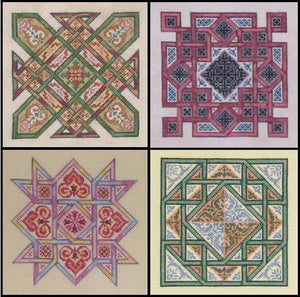 The Celtic Quilts series of charts have new conversions to Weeks Dye Works threads and PDF availability now.
---
• Conversions • PDF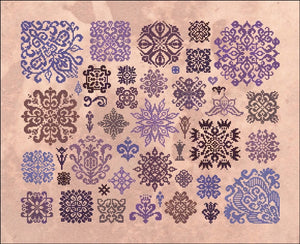 With the "Stay Home" directives, I've gotten and gotten to a number of requests for conversions and PDF options and have plans for several more. New conversions have been added for Blackstone Fantasy Garden (in picture below) and Tanglewood. These were both originally done in Carrie's Threads. I've added a toss now for alternative overdyed threads as well as the DMCs.    Also new are some PDF format options for Blackstone Fantasy Garden, I Still Do (with the two charts now available separately), and Alchemical Romance (picture below).
---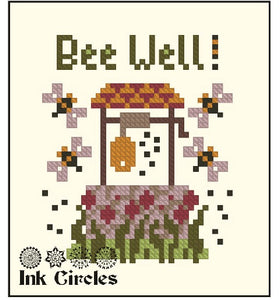 Things are getting a bit crazy in this world, so several cross stitch designers have undertaken a little project we call "Be Well and Stitch". Shops are closing their doors to walk in customers and stitchers are finding themselves confined in their homes. We want to share a message of wellness and support. Consider placing a mail order from your favorite LNS, or buy a gift certificate to show you'll be there when things lighten up. As for my part, I couldn't help the play on words in my offering. #bewellandstitch. Click the pic to download the chart.
---
• PDF • Website updates

My job of manually sending PDFs, that is. I got tired (and I'm sure you did, too) of my attachments getting caught up in firewalls and going into the spam box so I did something about it. Effective today, you SHOULD be provided a download link immediately upon checkout. You'll get an email with the link at well. Please let me know if you have any problems with the new technology. To my best ability, it's been set up and tested. Here are the PDFs available now. Watch for more charts to be made available as PDF drops.